We use the newest and best home inspection tools & technology in the industry for your home inspection, such as the Flir infrared camera with MSX. This alone enables us to discover what the other home inspectors are completely blind to such as hidden moisture problems, overheating electrical components, missing insulation, air leaks and much more. All these things left undiscovered by another "home inspector" will end up costing you thousands of dollars in repairs, and turn your new dream home into an expensive nightmare. Without the use of our ground breaking, and state of the art technology in your home inspection along with our knowledge & experience, your only getting half the inspection you deserve & need! Our home inspectors usually check the structure of the buildings as a whole, the foundation, the roof, the electrical systems, the plumbing systems, the interiors of walls, the attic, insulation, air conditioning, appliances, and pools.
They also look for termites as well as mold and fungus growth.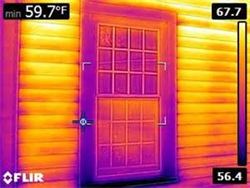 The use of thermal imaging not only enables us to detect hard to spot problems, it also allows our  home inspectors to see problems before they become serious issues. An Infrared inspection also helps our home inspectors to diagnose not just the extent, but also the source of many of these problems.  This can result in a large reduction in costs. Early detection of moisture inside a wall, for instance, allows for an early, simple, cheap fix which would not be possible much later, after extended exposure to moisture creates a pervasive problem with mold. It is far cheaper to replace the small section of roof where a leak originated than it is to replace the whole roof. Infrared cameras provide a quick and effective method of moisture tracking that allows the source of any leak to be readily determined.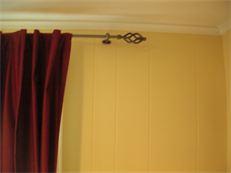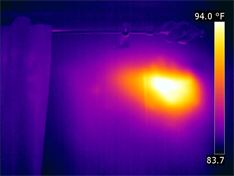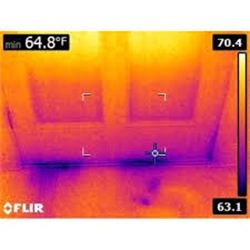 Because infrared cameras "see" heat, inspection with them can readily identify loose electrical connections, overloaded circuits, and shorts before electrical systems fail or, worse, start fires. A small slow leak in the plumbing can be found just by looking through an infrared camera, which is far cheaper than pulling out walls and ceilings and looking over every inch of the plumbing by eye. Old-fashioned methods of home inspection, such as visual surveillance, installation of inspection ports, and even the use of x-rays are often ineffective when and always inefficient. The use of infrared cameras makes building inspection not just far more effective but also far more cost effective.
Thermal Imaging for Energy Auditing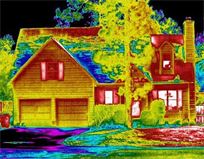 Heat losses in buildings can account for up to 50% of the total energy consumption and comes from air leakage through chimneys, attics, wall vents and badly sealed windows/doors, etc.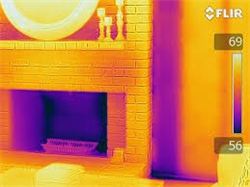 Thermal imaging allows us to easily detect areas of missing insulation in the home that will lead to costly energy bills. A thermal imaging camera identifies patterns of heat loss that are invisible to the naked eye. Thermal imaging quickly indicates the air leaks within a property and measurement data are easily compiled into a report.  Our professional home inspectors and energy auditors are using leading-edge infrared technology from FLIR to perform energy auditing of homes and buildings to improve energy efficiency, thus leading to savings on energy costs.
Book your appointment now https://stockshomeinspections.com/schedule/