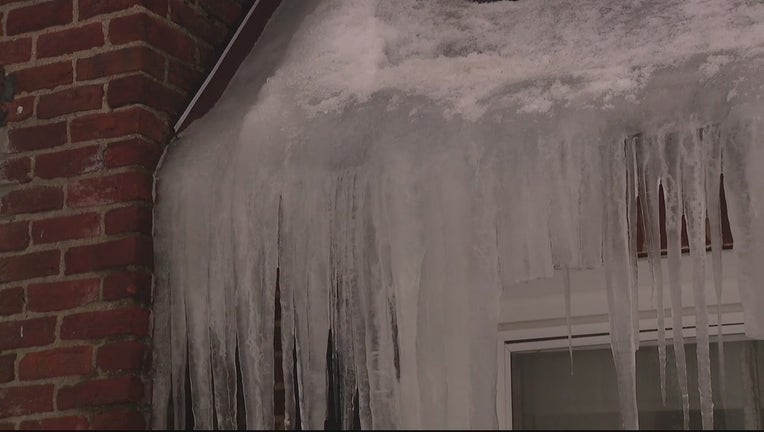 Removing ice dams from your home can save you money for years to come
As the snow melts away from your roof, it's likely going to start piling up on the edge of your home. You need to solve that problem fast before it becomes an even bigger one.
"AAA never recommends that homeowners get up on the roof and shovel snow off," Michalak said. "And when utilizing a roof rake, keep in mind that you are pulling snow off the roof. Make sure no one is underneath the location you are working on and that there is no fragile vegetation or objects that can be damaged by the weight of the falling snow. Always watch out for overhead power lines when doing any type of home maintenance and stay away from that area."
If you have a leak inside your attic, aim a box fan at the leak and the cold air will freeze it in minutes. This prevents more water from coming in as you address the problem outside.
How do to get rid of ice dams in gutters
With the snow out of the way on your roof, the above-freezing temperatures will help melt the ice.
If you want to speed up the process, you can create a channel for the ice to travel down. There are products that you can toss on the roof and, while they work, they can be harmful to your plants or soil once they wash away.
Instead, get an old pair of pantyhose and fill it with calcium chloride (aka rock salt), and tie it off. Then lay the filled pantyhose across the dam so it overhangs the gutter and creates a channel for water to flow through.
This will keep the water moving without leaking chemicals into your grass.
How to prevent ice dams
Of course, the best thing to do is prevent it so that when the snow melts, you can watch it from the comfort of your couch and rest easy.
Remember how heat from the attic melts the snow? That's a great spot to start to prevent this.
Increase ventilation through the use of soffit, gable, and ridge vents. Moving air helps circulate air through the attic to ensure a consistent temperature.
Check your insulation – is it blocking any vents? Is it deep enough? you may need more to keep the heat from the inside of your house from escaping to your roof.
Quick tip: improving your insulation will also save you money on your gas or electric bill as it should be cheaper to heat your home.
If you've still got ice dams or want a cheaper solution than blowing insulation, heated cables work as well. You can line them along the first three feet of your roof and plug them in to heat up before the snow. This will prevent snow from stacking up at the edge of your house and over the eaves.